By WILLIAM FRIEDKIN (HarperCollins; 2013)
With such seminal movies as The Exorcist and The French Connection, Academy Award–winning director William Friedkin secured his place as a great filmmaker.A maverick from the start, Friedkin joined other young directors who ushered in Hollywood's second Golden Age during the 1970s. I've been a huge fan of film director William Friedkin since first seeing his Academy Award winning blockbuster 'The French Connection' when it was released on the big screen back in 1971. I was blown away by the look, style, editing, and music in the picture along with the incredible elevated train/car chase that was the centerpiece of the film.
The Friedkin Connection Review
This isn't the greatest memoir by a film director I've ever read, but it is essential. The author, after all, is William Friedkin, helmer of some of the most interesting films of the past few decades. This overview of his life and films is fairly in-depth, if a bit incomplete: two of Friedkin's films, DEAL OF THE CENTURY and THE GUARDIAN, aren't mentioned at all, and nor is his direction of the 1977 Academy Awards telecast. Most disappointing of all, his legendary sexual exploits admittedly go unmentioned, "lest the book be slapped with an NC-17 rating."
Friedkin's storytelling instincts, at least, are solid. He wisely limits the recollections of his impoverished childhood in uptown Chicago to just ten or so pages (boring childhood reminisces are a frequent autobiographical annoyance), quickly getting to the beginnings of his filmmaking career. Those beginnings took place in the world of episodic television in the late 1950s and early 60s, which led to Friedkin's first feature film, the impassioned death row documentary THE PEOPLE VS. PAUL CRUMP—a film he now claims "reeks of its own incompetence." From there he made several television documentaries and an episode of ALFRED HITCHCOCK PRESENTS before directing his first non-documentary feature: the Sonny and Cher comedy misfire GOOD TIMES.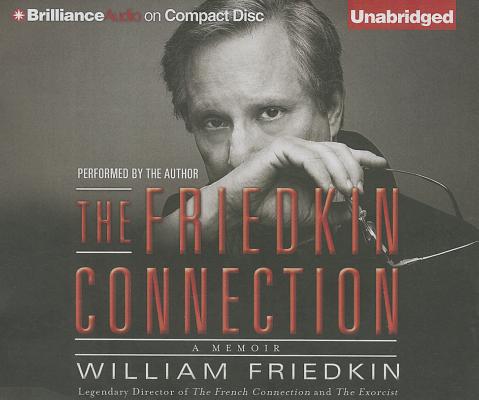 His subsequent features THE BIRTHDAY PARTY, THE NIGHT THEY RAIDED MINSKY'S and THE BOYS IN THE BAND weren't much more successful (financially at least). Friedkin is resolutely blunt and self-effacing about those early films, admitting he should have chosen better projects. He hit his stride, however, with THE FRENCH CONNECTION, which came together despite a lot of seemingly mismatched elements–including a leading man who wasn't Friedkin's first (or second, third or fourth) choice and a villain who was chosen by mistake–and set the stage for the dark and provocative filmmaking that would become Friedkin's trademark. This was followed by THE EXORCIST, which despite a stormy production became Friedkin's most famous and financially successful work.
The Friedkin Connection -
In keeping with the frankness displayed throughout this book, Friedkin admits he was overtaken by hubris in the wake of THE EXORCIST'S success. He lavished a massive $20 million (a mighty pricey sum back in the seventies) on SORCERER, a staunchly uncommercial effort with no redeeming characters yet, Friedkin concedes, "I thought an audience would see the film simply because I made it." That wasn't the case, as SORCERER was a critical and financial flop which led to a lengthy period of self-doubt and several more flops.
Things picked up, unexpectedly enough, in the late 1990s, when Friedkin was asked to stage an opera in Italy. The resulting production of Alban Berg's WOZZECK was a huge success, and led to Friedkin directing several more operas. Despite persistent health problems he also managed to revive his flagging film career with RULES OF ENGAGEMENT, THE HUNTED and the nervy independent films BUG and KILLER JOE. The latter was released in 2012 with the dreaded NC-17 rating, proving that Friedkin, now well into his seventies, has lost none of his edge.
The Friedkin Connection Facebook
There are plenty more tantalizing tidbits here, including a claim that Al Pacino was lazy and unprepared when making Friedkin's 1980 film CRUISING and an unnerving description of an early 1980s heart attack. Yet it's the unblinking honesty with which William Friedkin examines his life that resonates most. I'd say THE FRIEDKIN CONNECTION is much like William Friedkin's best films: tough, intense and very difficult to look away from.